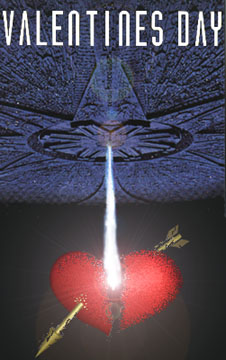 Does the sight of chocolate hearts, stuffed animals, and prepackaged romance fill your heart with disgust? Tired of having your affections manipulated by Hallmark and Brach's?
Are you Cynical? Jaded? Bitter? Depressed?
It is time to revel in it!
Valentine's day is upon us.
Bitter chocolate!
Dead flowers!
Eviscerated teddy bears!
Evil Candy Hearts!

| | |
| --- | --- |
| What | Join us in a Wake mourning the Death of Love. |
| Who | You. Your ex-. Your ex-'s ex. Aw, hell, bring your ex-'s current so they can see their future. |
| Why | To torture its Hallmark Soul. |
| When | February 13th. 6pm, until no one is left conscious. |
| Attire | Black. |
| Bring | Attitude. |
| Photos | Friday the 13th, 1998: A Wake mourning the death of Love |
On a display of "I love you only" Valentine cards:
"Now available in multi-packs."
The best way to a man's heart is through his stomach...from the front. From the rear, it is the gap between the fifth and sixth ribs. Be careful not to get your blade caught in the cartilage...
Because you are human beings you are going to meet failure. You are going to meet disappointment, injustice, betrayal, and irreparable loss. You will find you're weak where you thought yourself strong. You'll work for possessions and then find they possess you. You will find yourself - as I know you already have - in dark places, alone, and afraid. - Ursula Le Guin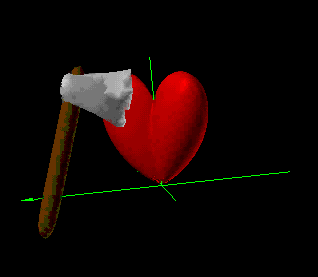 (Click on the ax to see the QuickTime movie: 314K)

(Equations rendered by the Graphing Calculator)
---
Jane Tollini is promising the hottest, raciest, X-rated sex tour in the city - at the San Francisco Zoo.
She's an animal keeper who will take some 700 Peeping Toms on a tour of the giraffe pen, where 8-month-old Spot negotiates a harem of older females, and the bird cages, where the hornbills practice bondage.
"Animals practice the same sexual rituals we do, but with a twist," Tollini says. "We even have homosexual wallabies and lesbian penguins." The 90-minute Sex Tour, which starts -- appropriately -- on Valentine's Day and lasts for eight days, is restricted to "mature audiences only." Among the highlights: penguins engaging in a month of foreplay, lions procreating up to 50 times a day and koala bears that nearly maim each other during 40 seconds of intercourse.
"Koalas are nasty little creatures that don't like each other very much," Tollini says. "It's a rolling, tumbling thing for them and you have to almost kick them apart or they will kill each other." Tollini warns her Peeping Toms that some portions of the tour are not pretty to watch. "Rhinoceros sex is the most violent," she says. The hour-long act can leave the female with painful gashes. But this year, the highlight is the product of one rough roll in the hay: a 60-pound baby rhino born three weeks ago.
The Sex Tour got its start seven years ago during penguin mating season. On Valentine's Day, Tollini put red paper hearts in the penguins' iceberg pond, then put on Johnny Mathis to set the mood. The males gathered up the hearts and brought them back to the mates' birthing dens. As word of her sex tour grew, Tollini expanded the show. Now, she also discusses birth control and hormonal implants, and teaches visitors the different methods of copulation for predatory and prey animals.
"I can't tell you how much I want a cigarette after this tour," she says.
The popular notion about marriage and love is that they are synonymous, that they spring from the same motives, and cover the same human needs. Like most popular notions this also rest not on actual facts, but on superstition.... On rare occasions one does hear of a miraculous case of a married couple falling in love after marriage, but on close examination it will be found that it is a mere adjustment to the inevitable. - Emma Goldman
Recommended Reading:
Image stolen without permission from: